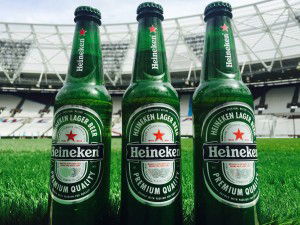 London Stadium owners E20 Stadium say their agreement with West Ham does not require draught beer to be provided.
The concessionaire agreement with the Hammers has a comparable club clause which is defined as leading football clubs with London as their registered home address which has a capacity at their home ground of more than, 40,000.
The agreement says that Stadium owners shall ensure that the terms and conditions relating to the Catering Contracts including without limitation as to the prices for food, refreshments and beverages and the corresponding service levels be equivalent to comparable clubs.
Draft beer is sold at comparable clubs and it had been thought that meant it should be available at the London Stadium but E20 Stadium responding to a Freedom of Information request this week said:
"E20 and its operator provide catering at the Stadium in line with the Concession Agreement requirements. The Concession Agreement does not require draught beer to be provided, although E20 nevertheless does provide it in many areas of the stadium. E20 intends to honour all of its obligations under the Concession Agreement."