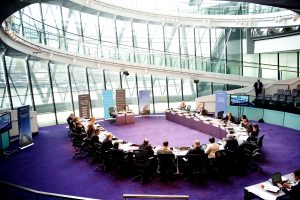 Majority London Stadium owners, the London Legacy Development Corporation (LLDC) will be called to account this Thursday in front of a London Assembly members plenary.
Outgoing LLDC CEO David Goldstone will face the music one last time while the London Assembly members will have an opportunity to quiz the new incoming LLDC Chairman Sir Peter Hendy on how he plans to change things under his chairmanship. The LLDC is currently searching for a new CEO with final interviews scheduled for December.
High on the agenda will be the London Stadium running costs and losses, the London Mayor's delayed report by Moore Stephens as well as the future financial viability of the Stadium and its continued drain on taxpayers.
Last week Claret and Hugh wrote an open letter the London Mayor https://www.claretandhugh.info/an-open-letter-to-london-mayor-sadiq-kahn/ asking him to get personally involved in resolving issues around the London Stadium.
The London Assembly Plenary will video webcast Live on Thursday morning from 10 am from https://www.london.gov.uk/london-assembly-plenary-2017-11-02