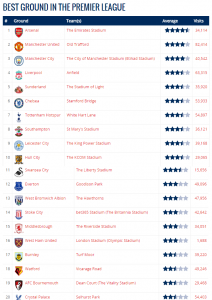 The London Stadium has been rated as the worst stadium for  atmosphere in the Premier League according to www.footballgroundmap.com
A total of 1,688 visitors to former Olympic Stadium gave it just two and a half stars out of five for the atmosphere, just below the rating for the Emirates Stadium which was also on two a half stars. Spurs topped the table with four out of five stars.
The London Stadium was also rated the worst for the best police in the Premier League with just two stars out of five. In that category, Arsenal came top on three and a half stars out of five.
In the food category, West Ham rated slightly better as the 15th best in the Premier League in terms of the best food available with three stars while Palace CAME LAST and relegated Middlesbrough  top.
On facilities, West Ham fared better again scoring ninth best stadium facilities in the Premier League; the Emirates Stadium topped this category too with Palace coming last again.
When it comes to the view of the football pitch West Ham were rated 17th in the Premier League with supporters saying that Burnley, Everton and Palace were worst. The Emirates scored the best view in the league.
In the location category, the London Stadium was rated 11th best in the Premier League with the Emirates topping the table yet again according to thousands of supporters questioned.
Finally, football supporters overall rated the London Stadium 16th out of 20 Premier League stadia.
Turf Moor, Vicarage Road, Dean Court and Selhurst Park were rated worst.
You can view the full tables at:https://www.footballgroundmap.com/stats/grounds/ratings/england/premier-league