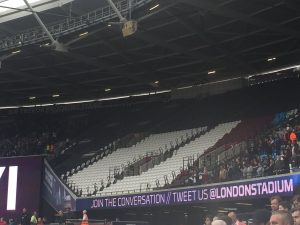 Yesterday's match between West Ham v Swansea was another official sell out with 56,922 tickets sold and thus published as the official attendance at the London Stadium.
In reality, the real attendance was estimated to be somewhere around 47,000 so where are the missing supporters.
Swansea  City returned 1,200 tickets yesterday meaning the upper away tier remained completely empty but these 1,200 were sold in the home end in spare seats to take the official capacity back up to 57,000 which is limit permitted by planning permission and the safety certificate.
In fact, there are over 66,000 seats in the London Stadium of which around 6,000 are covered up by screening. This still leaves around 3,000 seats spread around the stadium which are unused during every match.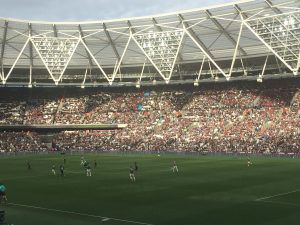 West Ham has around 47,000 season ticket holders with a further 3,000 corporate hospitality members which leaves up to 3,000 seats for the maximum away allocation and 4,000 general admission tickets for the regular ballot for Academy members.
The sad truth is many thousands of  West Ham season ticket holders are not turning up to games and yesterday was probably one of the worst attended Premier league game this season. Up to 10,000 season ticket holders were missing from yesterday's match-deciding not to sell their seats on the official ticket exchange, forward them to a friend or family or donate them to charity.
Last season London Stadium Safety Advisory Group minutes  released under Freedom of Information revealed that the Southampton and Middlesborough matches real attendance was 47,000, the game against Stoke had 48,391 attending while the first match of the Stadium against Bournemouth match had 52,192  while the London Derby against Arsenal game at the London Stadium had a real attendance had 51,122.