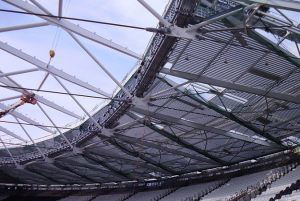 The company who created the London Stadium's new roof has collapsed into administration with 109 jobs lost.
Lakesmere Group who won the contract to deliver the permanent new roof to meet the requirements of improved acoustics and increased seating capacity to cater for its role as the new home for West Ham has filed for bankruptcy.
The £7m solution provided by Lakesmere was a new acoustically insulated membrane and transparent polycarbonate profiled roof, which at 45,000 square metres is twice the size of the original roof covering. With a span of 84 metres at its deepest point, it is the largest gravity supported cantilevered roof in the world.
In 2015 a firm called Alto Seating who provided the doomed retractable seating for the former Olympic Stadium went into administration with disastrous effects which continues to provide challenges.
It is unknown whether the administration will have any effect on the ongoing maintenance or repairs of the roof.