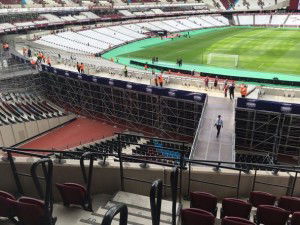 The tender process for the award of the five year seating transition contract for the London Stadium has been concluded with London Legacy Development Corporation Investment Committee and E20 Board approving the appointment of the successful contractor called PHD Modular Access Services Ltd.
On their own website PHD describe themselves as  "The World's 'Go-To' Scaffolding Specialists."
The award of the contract to a scaffolding specialist will raise the eyebrows of some supporters who were promised  state of the art retractable seating moved on wheels at the touch of a button.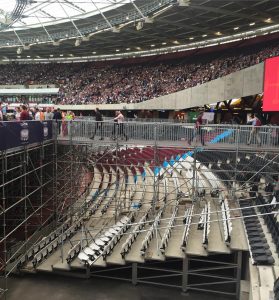 Financial accounts show the new company turned over £10m last year from scaffolding activities so the win of such a major contract is a major coup for them.  A previous company called Alto Seating went bust in 2015 owing more than £4m to creditors.
Stadium owners E20 are trying to sue the administrators of Alto Seating for £1.4m while the administrators  from the doomed company are trying to counter claim £1.5m from E20 for unpaid invoices.
LLDC CEO, David Goldstone gave evidence at the London Assembly Budget Monitoring sub-committee last year about the rising cost of the London Stadium operating costs and the impact of the failed retractable seating system which they now call relocatable seating.
Goldstone confirmed an extra £21m was spent on the doomed seating system last year and estimated costs could reach £8m per year to move the seats backwards and forward unless a better solution could be found.