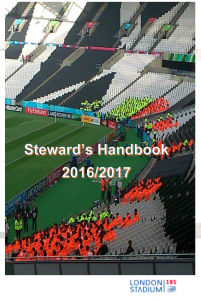 London Stadium owners E20 Stadium LLP have released details on stewards following a freedom of information request.
The recent response reveals there are 949 people on the database who are available to work as stewards at the London Stadium. Of these, 426  worked at London Stadium between 1st June 2016 and 31st October 2016.
Supplying a breakdown of the numbers of stewards with qualifications.
The Stadium owners confirm 193 stewards have a NVQ Level 2 with 71 are working towards the NVQ. 131 stewards have a SIA licence.  31 supervisors and level managers have a NVQ level 3.
The full response to the freedom of information request including the Stewards handbook can be found HERE