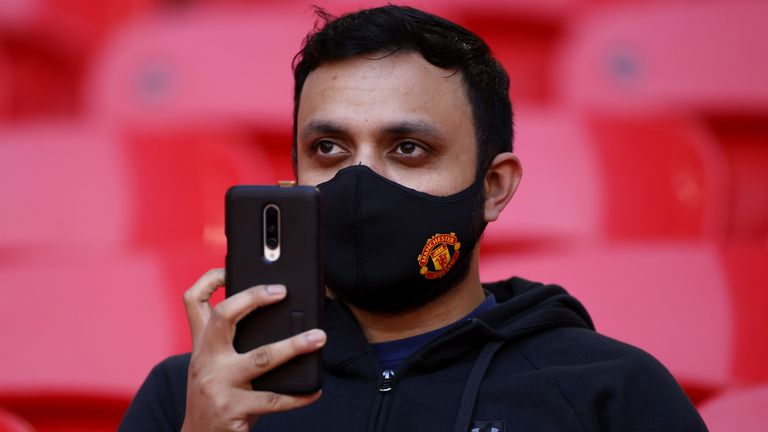 They come from London and the Home Counties, Manchester United supporters who live far from the North are often described as Cockney Reds.
London Stadium stewards will be on the lookout for them today with the Southern supporters of the Red Devils desperate to catch a glimpse of Ronaldo's return in the flesh. Many are said to have purchased tickets from ticket exchange in home sections but often seem oblivious to the problems that can create.
While the wearing of Manchester United shirts and coats in the home end seems to be restricted to mostly naive tourists, the Cockney Redd will often flash their Manchester United phone covers or screen savers or only take photos of Manchester United players and there are other tale-tell signs which make them stand out.
Answering a question to Hammers United on the subject the club had the following statement to make:
All ticket purchases are subject to the Terms and Conditions of Ticketing, which stipulate that all tickets are for West Ham United supporters only – '1.2. Season Tickets are for the use of supporters of the Club only. By applying for a Season Ticket and/or using the same you hereby warrant and represent that you are a supporter of the Club'.
By purchasing a ticket and entering London Stadium, supporters of the home and visiting clubs are also committing to adhere to all of the points set out in the London Stadium Ground Regulations. Any visiting supporters found to be in the home sections of the Stadium will be relocated to the visitors' section, wherever possible, or ejected from the stadium for their own safety. This eventuality is covered in Point 18 of the Ground Regulations as – 18 Any individual who has entered any part of London Stadium designated for the use of any group of supporters to which he does not belong may be ejected from the Ground either for the purposes of his own safety or for any other reason.
The Club also takes a number of proactive steps to mitigate the risk of visiting supporters gaining access to tickets in the home section. This includes monitoring ticket sales patterns for any suspected visiting or non-West Ham United supporters, liaising with the visiting club directly, cancelling ticket purchases, and blocking the accounts to prevent future bookings. We also monitor illegal ticketing agency websites and work with our counterparts at other clubs and the Premier League to report any incidents of misuse to the authorities.
All supporters are encouraged to use our dedicated SMS reporting service on matchday to report any incidents discreetly and in confidence on 07860 404 069. This message is displayed around the ground, including in all gangways, on the concourse, inside toilets, and at Supporter Information Points, with specific reference to away fans in home areas. All text messages are received directly to the Control Room in order for our staff to monitor the situation and act accordingly at the time of it occurring.
A bespoke safety strategy is created in advance of every home match and visiting supporters in home sections is one of those elements that we consider when making preparations for the game. This also includes a pre-match meeting of all stadium partners and stakeholders, including members of the Safety Advisory Group (SAG). Members of the SAG are present on matchday and are fully aware of our processes in handling such situations. All incidents are monitored and handled in a carefully considered and proportionate manner and in accordance with Ground Regulations. Our policy is clear, that any visiting supporters found to be present in home sections will be ejected from the stadium.
Stewards are briefed to remain vigilant at all times and to prevent entry to any supporters who clearly display visiting supporters colours, however, there are occasions were supporters do not display visiting team colours prior to entry. In any case, the safety and security will take appropriate action in dealing the situation as soon as it is made known to them, either by a steward or through a supporter using the many reporting mechanisms we put in place on matchday to assist in resolving such issues.
Should any supporter witness a visiting supporter in the home section we would strongly advise that they report this immediately in any of the following ways:
Speaking to the nearest steward or steward supervisor
Speaking to the nearest Supporter Liaison Officer
Sending a text message to the dedicated SMS Reporting Service on 07860 404 069