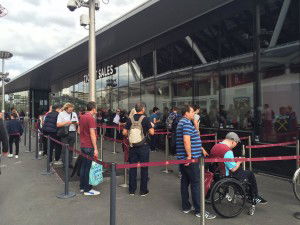 The relocation of Season Ticket Holders in the London Stadium is now fully underway.
Season ticket holders who registered to migrate to alternative seats received an email yesterday with details of the process and their allocated time slot. The email from the club says:
The relocation window is open until Thursday 15th June and there are 5,000 seats available of those who decided not to renew.
The email from the club says:
Dear xxxx,

Thank you for renewing your Season Ticket for 2017/18. We can confirm that we received your request to relocate your seat.

Please note that with over 90% of Season Ticket Holders renewing for 2017/18 and the vast majority wishing to retain their existing seat, opportunities to relocate will be very limited and are strictly subject to availability.

Your relocation window opens at: x:xxpm Thursday xxth June 2017

Please call the Ticket Office on 0333 030 1966 (option 3) from this time to discuss opportunities for your relocation request.

Important seat relocation information


When calling the Ticket Office please ensure you have your client reference number to hand. Your client reference: xxxxxxx
Most available seats are in singles or pairs. If relocating with others, make sure you have to hand all client references, names, and postcodes within the group
If you are looking to relocate in a group all supporters must have already renewed
In the interest of fairness, seats cannot be placed on reserve
The relocation phase will be a busy period for the Club and we would therefore ask that you only contact us once your window has opened. Supporters calling earlier will be politely asked to call back at their designated time
If your relocation falls into a different price band, the difference in cost will either be refunded or required to be paid in full immediately
If you make a decision to relocate your seat, your existing seat will then be made available for other supporters

Thank you for your continued support.

Kind regards,

Nicola Keye
Head of Ticketing