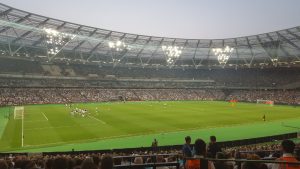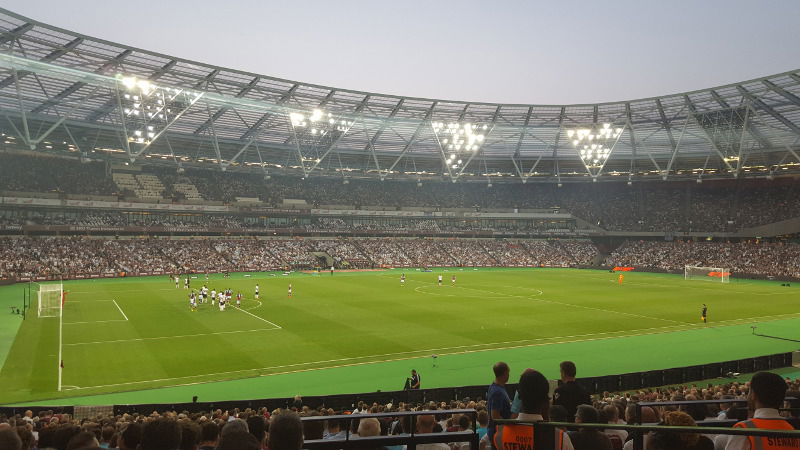 A new survey – the most comprehensive yet with 6,356 match going supporters filling it in – we are able to publish today a true reflection of West Ham fan's perception of the London Stadium.
The survey was put together by several West Ham websites, blogs and social media channels led by ClaretandHugh and WestHamTilliDie.com.
There is no evidence to suggest that the survey was hijacked by rival fans or protest groups with hidden agendas. The board may not like these results but I think we all understand it is early days in our 99 year tenancy and the first year was always going to be a difficult one to get used to the massive change.
After seven months in the London Stadium do you still believe that the move was a good idea?
Yes 34%
No 38%
Not sure 28%
West Ham's Official Poll before the move showed that 85% backed the move, 10% wanted more information and 5% were against the move to Stratford. These latest results show only a third still believe it was the right thing to do, less than a third are undecided with nearly 40% saying it was not a good idea in hindsight.
When will the London stadium feel like our proper home?
It does already 6%
Next season 13%
2-5 seasons 41%
6-10 seasons 6%
+10 seasons 4%
It never will 30%
Only 19% believe it will feel like our proper home next season but 41% believe it will feel like home within 5 more years. More tellingly 30% claim it will never be our home.
Let's hope that 30% change their mind.
If you are a season ticket holder do you plan to renew for next season?
Yes 40%
No 12%
Not sure 17%
Not a season ticket holder 23%
On the waiting list 8%
This shows that around 69% of those filling out the survey claim they are season ticket holders which account for 4,392 supporters. 2,546 say they will renew their season which is just under 58% of season ticket holder polled, just 17% say they won't renew their season tickets which could account for 8,840 seats if they really mean what they say. 1,082 season ticket holders were undecided whether they will renew which account for 25%; again history tells us many of them will bite the bullet and renew as the deadline gets closer so renewals could be as high as 83% by the deadline.
With a doubling of season ticket holders from 26,000 to 52,000 we were never going to get a 100% renewal rate and not all of it will be down to the London Stadium.
If you are a season ticket holder have you ever used ticket exchange functionality for matches you can't make?
I never miss a game 28%
Yes sometimes 15%
Yes, every time I can't go 8%
Not worth it financially 39%
I prefer to leave my seat empty 10%
Good to see that 28% never miss a game but disappointing that only 23% of the respondents saying they use the functionality when they can't make a game. 49% seem to say they don't want to help their fellow fans watching the match and possibly the main reason you can see so many empty white seats on match days. The club needs to do more to fix the perception of this service and get a greater take-up of this service.
If you are a season ticket holder were your expectations managed well before the move to the new Stadium?
Stadium as expected 32%
Stadium worse than expected 62%
Stadium better than expected 6%
Possibly the most disappointing result from the survey. It indicates that 62% of fans believe they were mis-sold in communications in the build up to the move and their Stratford reservation visit. Only 6% would admit to it being better than expected.
What is your view on the general matchday atmosphere at the London Stadium in terms of volume and support for the team?
Excellent 3%
Good 24%
Average 44%
Poor 29%
No surprise here, maybe the 3% only went to the Chelsea cup game or the Palace game which could be described as excellent, but we have had everything in between and the atmosphere and noise needs to improve with us fans leading the way.
What is your view on the quality of stewarding and security taking into account the last game you attended at the London Stadium?
Excellent 2%
Good 17%
Average 37%
Poor 44%
Personally, I believe stewarding has vastly improved over the last few weeks so surprised at such poor results. Are we are the level of the Boleyn Ground stewarding? No, and that will take some time, so I suppose the perception will improve over time.
What is your view on the quality, choice and price of food and drink within the London Stadium?
Excellent 3%
Good 17%
Average 40%
Poor 40%
Again surprised the 80% who said the catering average and poor. A vast improvement on the Boleyn Ground and similar to other Stadia such as Emirates and Embley whose catering is run by the same company but as they say perception is the reality so obviously room for improvement for the majority.
What is your experience of the London Stadium sight lines and views of the pitch from your seat?
Excellent 18%
Good 39%
Average 23%
Poor 20%
The key message for me here is that the majority like their view of the pitch and sightlines with 57% saying good or excellent rating. One in five think their view is poor, but you can't help but wonder whether the majority of these season ticket holders are stuck at the back of the upper tier in the cheap seats which cost £289 per season.
What is your experience of travelling to and from the London Stadium taking into account walking, public transport or car?
Excellent 13%
Good 31%
Average 26%
Poor 30%
We were told it was the most connected stadium in the country, that might be technically true, but it still takes around 30 minutes to walk from Stratford Tube Station to my turnstile. The majority of respondents (56%) believe transport is poor or average. I am not sure what the club can do about this, but a better route from the station to the stadium would be a big step in the right direction.
How do you rate your general match day experience at the London Stadium?
Excellent 5%
Good 34%
Average 38%
Poor 23%
So the all important match day experience is average or poor for 61% of those surveyed. I think the results on the pitch have got as much to do with this sentiment as the stadium does and I do wonder what the result would have been to this question would have been if we won every game at home.
West Ham have been criticised by Taxpayers groups for not paying enough in the contribution to the transformation costs and running costs. Do you think West Ham should pay more?
Yes 20%
No 61%
Don't know 19%
I surprised 20% said the club should pay more, but it certainly has turned out to be the deal of the century with predicted operating losses predicted to top £8.4m next year.
The club will come under more pressure to increase their contribution to reaching the 66,000 capacity.
Do you think West Ham will become a regular top six club within the next five years as a result of the move to the London Stadium?
Yes 15%
No 64%
Not sure 21%
Just goes to show not many of us bought into the top six dream sold to us before the move. The problem is as we earn more the current top six move to higher levels and it ends up a cat and mouse game.
Do you think West Ham will kick on to the next level and become a top four team within ten years as a result of the move to the London Stadium?
Yes 12%
No 64%
Not sure 24%
I love the optimism of the 12% of supporters who think we could become a top-four team within ten years. I suppose it happened briefly to Leicester for one season only so we can all dream
Do you think the West Ham board are doing a good job?
Excellent 5%
Good 27%
Average 40%
Poor 28%
Another surprising result was the view that 68% thought the West Ham board was doing an average or poor job. They will be disappointed with that view as work tirelessly to improve things and think they deserve more credit than they get.
How well does West Ham value you as a supporter and listen to fans concerns?
Excellent 3%
Good 21%
Average 39%
Poor 37%
Room for improvement here but things are starting to change with more customer support staff and forty match day SLO's. Telling that 76% think the club don't listen or value fans and possibly the biggest takeaway for them from this survey.