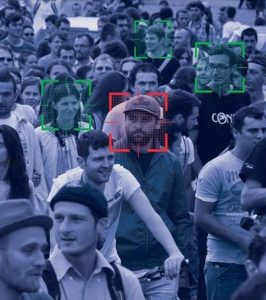 Facial recognition software claimed to be as accurate as the human brain will be deployed at a London stadium for the first time so that fans can go ticketless. Although the Stadium hasn't been named industry insiders say the London Stadium already has the CCTV cameras and software capable of facial recognition.
A system from AnyVision, a company based in Tel Aviv, Israel, uses artificial intelligence to scan the whole face. Eylon Etshtein, the founder, has revealed that the technology "will be available at a London stadium this summer, but we can't say where just yet".
 Speaking at the Ifsec International Security Show at the ExCel in Newham close to the former Olympic Stadium, Mr Etshtein dismissed concerns from campaigners about his technology being invasive, saying people were increasingly open to trading their privacy for convenience. In this case the scanners could help sports or music fans get to their seats quicker, he said.
Cameras can get a reading up to three metres away in 0.3 seconds, Mr Etshtein claimed, adding that the chance of a false-positive was "once in a million". The software also comes with a "privacy mode" for operators to pixelate faces and bodies. "People want seamless access to a stadium and for everything to be super-simple," he said. "They want to enter without stopping, without waiting to scan a barcode or for the card reader to work." He added: "Using your face means no one can fake it."
In April the London Stadium Safety Advisory Group (SAG) admitted that London Stadium 185 are looking at longer term solutions and have spoken to a number of companies regarding CCTV provision, including companies that provide CCTV with facial recognition.
A copy of the minutes can be found at https://www.newham.gov.uk/Documents/Business/SSAGMinutes4April2018.pdf
Whether West Ham will form part of a future trial is unknown but plastic season ticket access cards could soon a thing of the past as technology improves.