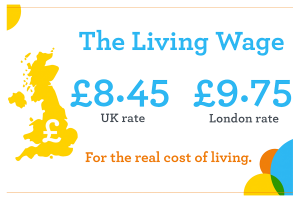 London Stadium owners E20 Stadium which is funded by the London Legacy Development Corporation (LLDC)  and Newham Council will pay all subcontractors at the London Stadium including stewards, catering staff and cleaners the London Living Wage of £9.75 per hour this season.
They hope to have the new pay deals in place for West Ham's first home game against Huddersfield game on 11th September.
A spokesperson for stadium owners, E20 Stadium, said: "We are currently working with our subcontracting firms with the aim of ensuring all staff are paid the London Living Wage as soon as practicably possible."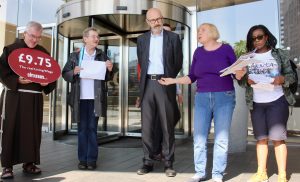 Cleaners were paid the London Living Wage throughout the London 2017 Athletics Championships but last week called Mark Robinson, Head of External Affairs at LLDC for this to be extended all year round to all staff – including at West Ham United home matches.
Mr Robinson confirmed on behalf of E20 Stadium LLP that a feasibility study into the Living Wage was due to be completed next week and a final decision on whether or not to implement the Living Wage will be taken by E20 Stadium's Board at its next meeting later this month.
A spokesman for West Ham previously said: "All permanent full-time and part-time staff employed by West Ham United are paid equivalent to the London Living Wage.West Ham United are proud to have been paying our employees at the level of the London Living Wage since 1 June 2015, and are immensely proud of the fact we were one of the first clubs to do so."
An LLDC spokesman previously added: "All permanently employed staff have always been paid at or above this rate. Some sub-contracted employees are paid below that level, but these contracts are already under review with the aim of ensuring all staff are paid the London living wage as soon as possible."
Earlier this year The Mayor of London wrote to the chairmen and owners of Arsenal, Tottenham Hotspur, West Ham and Crystal Palace, urging them to set an example for other businesses across the capital by paying their staff and subcontractors the London Living Wage. In the case of the London Stadium, the LLDC employs the subcontractors through E20 Stadium LLP which is ultimately funded by county hall and therefore ironically the London Mayor is the person responsible.
North London Citizens survey of workers' hourly pay at Spurs v Gent at Wembley on February 22 found security staff paid as low as £7.20 per hour and no staff at or above the London Living Wage.
When the pay deal for London Stadium subcontractors goes through, West Ham will be the third club in the Premier league to become a fully accredited Living Wage Foundation after Chelsea and Everton.
Luton Town, Derby County and Heart of Midlothian – are fully accredited by the LWF outside the Premier League, ensuring that all staff, agency workers and sub contractors have earned at least £9.75 an hour in London and £8.45 outside the capital.