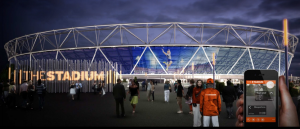 Plans to install stadium wide WIFI in the London Stadium have been abandoned after the collapse of the naming rights deal with an Indian company.
Mahindra Tech were awarded the technology contract to install and manage the new stadium wide WIFI but that deal also collapsed when Mahindra pulled out the naming rights deal with owners E20 Stadium LLP.
Earlier this year Karren Brady said "The Stadium will of course be fully connected in the fullness of time. The WIFI is being installed in stages, over a number of months, and should be finished later this year."
We have been told that the operators, London Stadium 185 will re-look at WIFI in the new year with the option of finding a new partner to provide free WIFI to 57,000 supporters on match days but for now there are no plans in place.