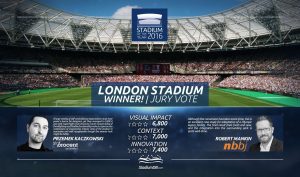 The London Stadium has been named the 2016 Stadium of the year by StadiumDB.com.
The website announced the winner from the Jury vote by saying:
"Making the best out of a bad situation is more than the usual design challenge. After London's U-turn in Olympic Stadium legacy architects and engineers have done the impossible.
We can already imagine the shock on some West Ham fans' faces. Yes, their transition from Upton Park to London Stadium hasn't been going smoothly (to put it mildly). But our Jury evaluated London Stadium from a different perspective, judging the challenge posed by transition from athletics to Premier League football. We kept in mind that the conversion after 2012 Olympics was done contrary to initial legacy plans and making a proper football stadium out of the Olympic venue was a tremendous task, if possible. The execution earned London Stadium its top spot!"
London Stadium was the only nominee to receive partial grades of 10/10, one in visual impact and one in innovation. And precisely innovation is the most praised part of this stadium. It's innovative as the very first Olympic venue to undergo such an extensive conversion. And while its cost is subject to public scrutiny, the outcome is seen very favourably by most of our Jury.
"Although the conversion has taken some time, this is an excellent case study for adaptation of a Olympic legacy facility. The final result feels fresh and new, and the integration into the surrounding park is quite well done." says Robert Mankin (NBBJ) who gave the London Stadium conversion 10/10 in innovation.
While the Jury is aware that the planned retractable seating system isn't implemented as it should have been already, the concept of how stands are moved closer seems to work. At least to the extent that it can. After all, we're not talking of a football-specific stadium, because it has to be converted for athletics every summer. This makes it a compromise by all means.
"A large variety of self-contradictory expectations must have posed a horror for designers, yet they managed to fulfill it very well. Super-light cover structure, smart incorporation of floodlighting and flexibility make it a spectacular masterpiece of engineering. Interior view of the stadium is impressive and well recognizable though the exterior look might be better." comments Przemek Kaczkowski (STOPROCENT Architekci).