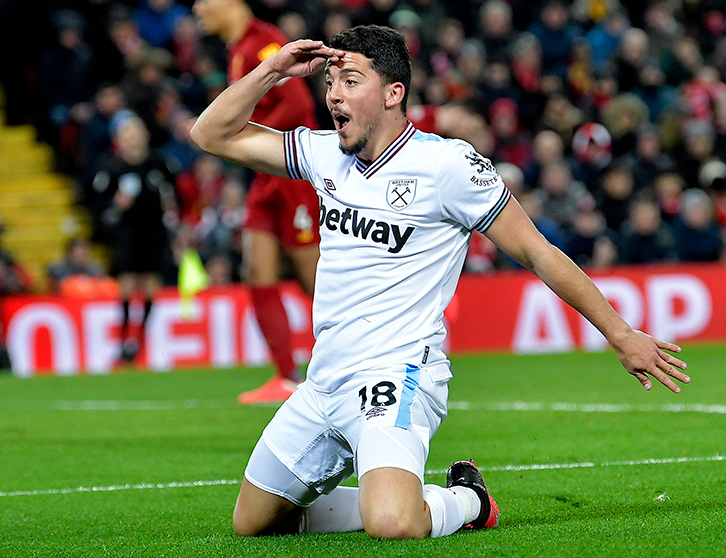 Positive Pablo Fornals could easily be feeling a long way from home and lonely during his present situation.
But instead the Hammers midfielder is relatively content and happy during a period of our lives which could cause grave uncertainty.
Pablo showed markedly improved form over the second part of the campaign after struggling to make it into David Moyes' first team reckoning.
And he was looking better and better before the untimely break arrived and like the rest of us he was forced into a lock down which may be eased over the coming two or three weeks.
Certainly there are hopes – if in the minds of some – rather forlorn that he could be playing football with the rest of the Premier Leage plaers over the next few weeks.
But of course that lies in the hands of the government although there could be more news later today when the chairmen meet at their Premier League video conference.
Meanwhile, Pablo is getting on with life declaring to www.whufc.com: "I'm good. I'm trying to do many things with my time because I can do more than just stay at home – I clean, I cook, I do my exercises, and I talk with lots of people.
"My family are okay – they are all together. My sister lives at home with my parents, and all three are together, so I'm happy. I want to be with them but I can't; I just want to be playing as soon as possible."
 "Lots of the guys ask about me, my situation and how I'm doing living this situation alone at home, so I'm happy to be in this team."
"I needed a few months but I think now I have been having good games, creating good chances and scoring goals. [Before football's suspension] I was really feeling good and excited because I was playing well.
"I come from a small town, a small city, so London for me is like a whole country!
"The intensity in England is very hard. The people here prefer you to attack every time, pass the ball, control the games… I think it's the English football culture, and it's one of the things that makes this league one of the best in the world – the aggression of the players, the chances in every game, so I'm happy to learn about these kinds of things.
"I recommend to all Spanish players to come here and learn about these things. You can't explain to anybody the intensity of this league and this culture, you need to see it [for yourself].
"I'm confident that 2019/20 will not be my best season in England; I want to show our fans that what people saw this year is not the real Pablo Fornals – I can do better."
"I'm not the best technical player in our team or in the league, but I'm a worker. It's my feeling about football: work hard, never give up.
"The position that I usually have played is the No10, but if I can do more on the wing for my team than the coach believes I can do in the middle, I need to work for them and my team-mates."
"Apart from this, I kill myself laughing at Michail [Antonio]! [Robert] Snodgrass is so funny as well, he's a joker, and [Jack] Wilshere is funny as well. We have a very nice group."