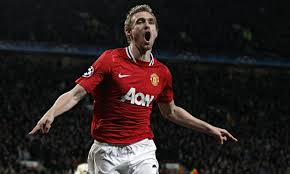 The news that Darren Fletcher's move to West Ham has broken down didn't come as a huge surprise this evening.
For this morning as rumours started to spread that the player had failed a medical, a source refused to make any sort of comment to ClaretandHugh on the situation declaring: "I just can't comment on that!"
That is usually a pretty good indication that all is not as it should be so this evening's news was no shock
Sam Allardyce – at the end of a seriously depressing post-Liverpool press conference – admitted; "It looks like that one has gone away. It's broken down on negotiations."
Manchester United boss Louis van Gaal revealed that he believed West Ham may have tried to change the terms of the deal.
He said: "I thought Darren was going to sign a contract but at the end they looked for a loan and that was not the agreement. I'm only listening to what is said by West Ham United.
Later he added: "I don't know what is happening. It was different on Friday but now it's changed."