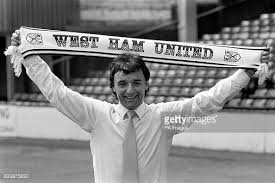 Former West Ham manager Lou Macari has revealed he turned down an offer to manage Chelsea weeks before he took over at West Ham.
Speaking to Moore Than Just A Podcast in an exclusive interview about his West Ham reign Macari said: "Before West Ham, I had an interview with Ken Bates at Chelsea, he wanted me to be the Chelsea manager. To be honest with you I turned it down because he wanted to appoint my assistant"  
Chelsea owner Ken Bates wanted Bobby Campbell to be Macari's number two at Chelsea while Chic Bates had been his trusty assistant manager at Swindon and later Stoke and Celtic.
When Macari joined West Ham weeks later he kept John Lyall's backroom team of Ronnie Boyce, Mick McGiven, Billy Bonds and Tony Carr in place deciding not to bring Chic Bates with him.  Macari said "Unlike Chelsea, West Ham didn't dictate to me who I had to have working with me"
Macari added "I kept on John Lyall's team because I thought they know the ins and outs of West Ham" 
You can hear the full interview at https://www.acast.com/moorethanjustapodcast/season7-episode10-theloumacarispecial