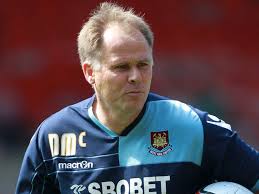 Neil McDonald has revealed that Stewart Downing's frustration in the out and out winger role has been a major factor in his current success.
And the training ground guru told London 24: "In Stewart we have got a player who can handle the ball, his passing range is very good and he can find space for himself.
"He was getting slightly frustrated when he played a bit wider as we weren't getting the ball to him as much as we could.
"But he is now involved all the time, plus we have the extra bonus in that whether he is playing in the hole or on the left side, he still gets back which is fantastic."
And Macca declared: "Stuart is capable of playing in all positions. He has played left back when we have had injuries, so anywhere down the left he excels in.
McDonald also reveals how the  new diamond midfield – which has thrilled the fans – was born
He explained: "You play systems because of the players that you have. To a certain extent we had been playing three up top, even though it sometimes looks like it is only one.
"We have now gone for two up top. I think we can do that now with the pace we have and trying to find a man in the hole that can build things for us.
It is easy to say we play long ball and knock it up to a centre forward and everyone works off that, but we have now got players who can handle the ball a bit better.
"What we have got is a little more pace in the team than we had in the past and that pace has been up front which is great.
"If we can't play through them, then we will go into the space behind them and turn them to put them under real pressure – that is the big difference."