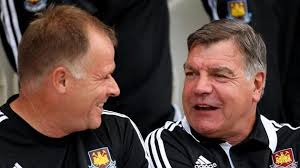 Neil McDonald has discussed life with Sam Allardyce and declared: "We don't have arguments, maybe heated discussions!"
And the Hammers assistant chief said: "He has always said if you believe something, state your case and we have had discussions where I have stood my ground.
"You have to be careful sometimes and know your place, I certainly know he is the manager and makes the decisions."
The pair have been together mow for seven years but Macca admits the relationship nearly didn't happen.
He said: "I didn't know him before I went to Bolton. had an interview to be first team coach and he always likes to tell me that I was rubbish and third on the list!
Speaking to www.London24.com he added:  "Then he made the three coaches do a session with the lads and they were raving about me and so I got the job on coaching ability rather than interview skills."
Macca made it clear that he is no 'yes man' adding: "I have my own ideas and Sam encourages everyone to have their say and then he will decide.
"As a coach, you have your own philosophy, but at the same time there is only one philosophy and that is the manager's."