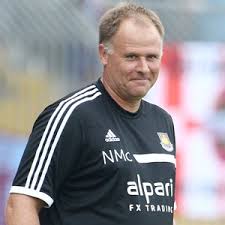 It's been very refreshing indeed to read the thoughts of Neil McDonald over the past couple of days!
We've been treated to his thoughts on a range of issues including the birth of the diamond formation, Stewart Downing's role within it, how Andy Carroll may or may not fit into things on his return, the outstanding form of Diafra Sakho, how they found him and took a chance on him…plus much more.
Alongside that was an entirely honest and lengthy explanation of why he is still assistant manager of the club after being heavily courted to become he become boss of Carlisle United – a role now filled by Keith Curle.
And maybe that's the clue as to why he is being given the opportunity to 'meet the media ' in such a big way.
For he made it clear that he is very keen to become a manager at some stage – in fact the word 'desperate' crept into one interview.
Perhaps Macca is now being given his head to explain how he feels about everything that's happening at the club and handed a more high profile role by the manager.
If that is the thinking it's all to the good for as the training ground guru he has shown just what a good coach he is and not somebody we want to lose when the first suitable job comes along.
Such has been the quality of his interviews this week I hope we are treated to a lot more – he puts things simply and doesn't waste words.
And that really is very refreshing indeed at West Ham United management level!