By Allen Cummings
Last Saturday we were united in remembering and paying tribute to Bobby Moore, probably the finest player ever to grace our great club.
Bobby's premature death from cancer is as much an indelible part of our history as the memories of Mooro's majestic performances in the claret and blue for 16 glorious years.
His memory lives on in the hearts of Hammers young and old alike. Always will! The wording on the specially commissioned t-shirts handed out to away fans at Anfield said it all: "25 years gone – never forgotten".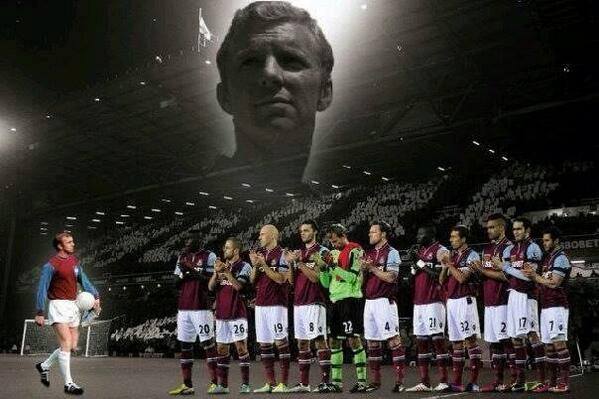 That's why I seethe when I hear what has become a convenient and repetitive catchphrase for the anti-board anti-move brigade at West Ham. That we have 'abandoned our history' by virtue of the move to the London Stadium
Leaving the Boleyn Ground was a heart-wrenching moment for all of us. No-one would ever dispute that. But to suggest when we walked out through those big claret painted doors for the last time we somehow agreed to writing off the history of our great club is simply not true.
The history of West Ham goes far deeper than that. It isn't just tied up with the stands and terraces of the Boleyn ground. That was merely a stage. Yes, we have said a fond farewell to an old friend. But our history  was formulated by the players who performed there. The supporters who worshipped there and the 'unforgettable' occasions that were created there.
Unlike the bricks and mortar of the stadium itself, those memories cannot be bulldozed and demolished. To disappear without trace. THEY are our history  and they will remain with us for as long as we're allowed to draw breath. Despite what some wish you to believe.
Who will ever forget that wondrous volley from Di Canio against Wimbledon, The evening we put seven past the 'unbeatable' Leeds United, The day Geoff Hurst scored six against Sunderland or the final magnificent night at the Boleyn when Winston Reid sealed an unimaginable 3-2 farewell victory over Manchester United.
That's our history. Will they be forgotten because of a move that's ironically taken us back closer than ever to where Arnold Hill's fledgling club first played.
Of course not! Our history is still very much intact. It's not forgotten! It's not been abandoned!  It never will be! Don't EVER let anyone try to tell you otherwise!
RIP Bobby Moore – but the spirit of our club lives on!