By Matt COYI Briard
I have been doing some research online and now Mr West Ham has retired  who is going to take our penalties for next season?
With a success rate of 89% from MN16 (40/45) this is going to be an extremely tough job for someone to follow… So who are the runners and riders: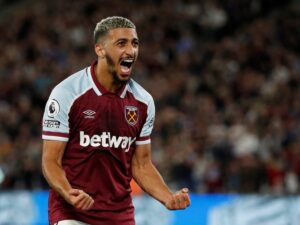 Domestic league penalties only.
Declan – Taken 2 scored 1, missed 1 50% success.
Mickey – Taken 2 scored 1, missed 1 50% success.
Bowen – Taken 6, scored 4 missed two, 66.6% success rate.
Soucek – Taken 13, scored 10 missed 3, 77% success rate.
Cressie – Taken 1 scored 0, missed 1 success rate 0%.
Said – Taken 7 scored 7 success rate 100%.
So the job would point towards Benrahma BUT he needs to be on the pitch when awarded one!!
Tomas our next most successful penalty taker could well be on the move.
We need a regular taker lined up and ready to hit the back of the net from 12 yards on a consistent basis.
PL games can be decided by one or two missed chances and penalties like, set plays, so important.
Let's have your thoughts….