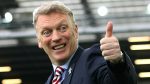 West Ham have a massive problem regardless of who they bring in as manager be that David Moyes, Chris Hughton, Poch,  Wenger, Benitez Uncle Tom Cobley and all plus a bunch of coaches!
And whoever that person is, the problem won't go away – we need a couple of top class midfielders with serious pace and power.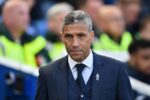 Without them – or at least one – the problem with West Ham 2019 won't go away…we will never trouble teams and oppositions will simply continue to waltz through us at will.
And I really can't see how any manager is going to be able to sort the problems left behind by a man who turned out to be as incompetent as it gets and yes, hands in the air, here I was singing his praises for months.
Manuel Pellegrini has left the sort of mess which it's gonna take a miracle worker to sort out  and whoever marches through the doors of the London Stadium needs to get that midfielder in fast.
No disrespect to Snoddy or Nobes but age is catching up fast and we need young legs and real energy because right now our midfield is lifeless.
I don't know who that player is  but whoever is gonna get the manager's job better make it clear to the owners he does and that they fork out the dough for him immediately.
For without the right player I fear we will go down regardless of who takes over!