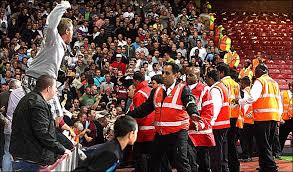 Claret and Hugh understands that 138 West Ham stewards from the Boleyn Ground are registered to carry on working at the former Olympic Stadium, 53 of whom are already working at the new Stadium stewarding previous non-football events.
While some stewards have opted not to transfer when they were told that their location within the stadium could not be guaranteed sources close to the club say the vast majority have registered.
We have been told  that the club went to huge lengths to ensure that every steward who wanted to transfer to the new Stadium was able to do so with minimum difficulty, and the large majority have done so. That process started six months before the end of the season, with letters and emails sent to every single steward.
Six meetings were held for them to talk them through that process on match days so that everyone would know they were happening and be able to attend. Individual meetings were offered to every member of staff.
The stewards will be employed by event management company OCS and French stadium operators London Stadium 185 and all costs will be covered by the stadium owners E20 Stadium LLP.
If you were a West Ham steward who decided against moving to the new stadium we would like to hear from you at mrwesthamfootball@gmail.com to hear your story.