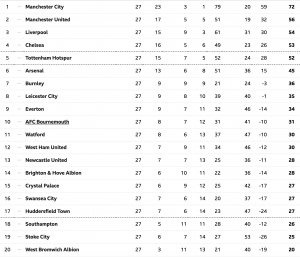 Over 80% of supporters believe West Ham will total 40 Premier League points or more by the end of the season thus avoiding relegation.
The Claret and Hugh poll of over 1,460 fans reveals that nearly 81% believe the Hammers will tally 40 points or more.
The Irons are currently on 30 points after 27 games with 33 points remaining available in the remaining 11 top-flight matches.
Less than 2% of those voting believe West Ham will score less than 36 points with over 17% believing the Irons will total between 37-39 points which could be enough to keep us save this season.
An additional 9.5% believe we will hit the magic 40 point mark with nearly 13% saying 41 points and 20% saying 42 points is realistic.
The majority totalling 28% say the Irons will amass between 43-45 points while nearly 8% say they could reach between 46-50 points.
Just over an ambitious 2% say West Ham will total between 51-66 points by the season end. Maybe some wishful thinking there.
Poll full results: 1,461 voted:   33 points 12 (0.82%)  34-36 17 (1.16%) 37-39 249 (17.04%) 40  140 (9.58%) 41 189 (12.94%) 42 294 (20.12%) 43-45 414 (28.34%)  46-50 114 (7.8%) 51-60 11 (0.75%) 61-65 3 0.21% 66 points 18 (1.23%)