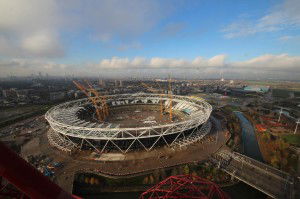 The new roof will be installed on the Olympic Stadium which will be lifted into place at 10:30 a.m weather permitting.
At twice the size of the previous roof, it weighs over 6,000 tonnes to cover every seat in the stadium.At 84m at its deepest point, the roof is covers 45,000 sq m and is believed to be the largest cantilevered roof in the world.
Over a four-week period, 8km of cable netting was lifted and connected to the roof, weighing a total of 930 tonnes.
Stuart Fraser, stadium transfer project director for construction company Balfour Beatty, which is installing the roof, said the project was "technically challenging".
Costs have risen by £36 million because of the need to strengthen existing steelwork.
Time lapse video via the BBC