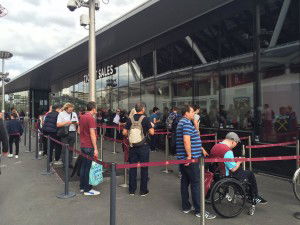 The allocation of 3,000 away tickets for Manchester City on Sunday 28th August at the Etihad has failed to sell out to priority points holders on Thursday and Friday.
The allocation of 3,000 for Chelsea away tickets sold out in a matter of hours meaning only those with 4 priority points or more could grab a ticket but demand has been less for the City away game.
All away tickets in the Premier League have been capped at £30 for adults this season and most games were expected to sell out to priority points holders with a history of attending away games.
The City game being aired  live on TV on a late Sunday afternoon during a bank holiday weekend 220 miles away from the East End so this could have something to do with lower than expected demand.
The remaining tickets will go on sale any season ticket holder with or without priority points at 9am on Saturday.
Ticket Prices:
Adults 
£30,
16-21 yrs &
Over-65s 
£20, 
Under-16s 
£15
Accessibility Ticket Prices
Adults £20, 16-21 yrs & Over-65s £20, Under-16s £15