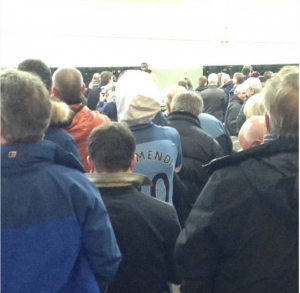 An investigation to find a Manchester City fan wearing a named replica shirt in the East Stand West Ham end has failed to locate the seat he was sitting in. A photo of the Man City fan brazenly standing in the home end went viral on  twitter on Wednesday night annoying many fans asking why he was not asked to leave.
The club has confirmed: "The policy of the ground is that no supporter wearing another Premier League or Championship shirt is allowed into the home end. If someone comes in wearing a coat and later reveals a shirt which breaches the rules the steward response team are instructed to ask them to leave."
A West Ham fan who did not want to be named said the supporter covered up early on and only revealed his replica shirt later.
A club employee added: "Individuals wearing other club shirts will be removed, I guess the lesson here is to report it to a steward on the night."