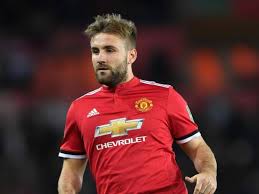 Manchester United's Luke Shaw could become a Hammers transfer target  given his near certain departure from Old Trafford this summer.
Although his contact ends in June, the club hold a year's option on him and are likely to hold out for a fee of around £12 million.
The former Southampton star has had a woeful time at the club since his move from the south coast club after joining the Red Devils four years ago when becoming the first teenager to demand a £30 million fee.
A bad injury and now serious fall-out with Jose Mourinho, has made his exit virtually nailed on but after making just eight appearances this season – and 40 in all at the club –  the Hammers could take advantage as they look to reinforce.
With  Aaron Cresswell believed to be attracting interest Shaw would be an alternative or a top addition should we decide to hold onto our former Player of the season.
At one point Shaw was being described as likely to have a Gareth Bale type future but a devastating injury, when he was caught with a sliding tackle against PSV Einhoven in 2015-16, and suffering  double leg fracture halted his progress.
Sir Trevor Brooking – when FA Director of Football Development described him as "technically very gifted."
Shaw's Old Trafford future looks non existent after Jose Mourinho declared himself angry with him for not following his tactical instruction after being hauled off in the FA Cup victory over Bolton.
It was the latest in Mourinho attacks on him once criticising his his apparent lack of fitness, although two months ago he claimed the left-back was one of the best in his position.