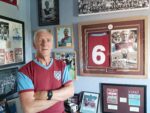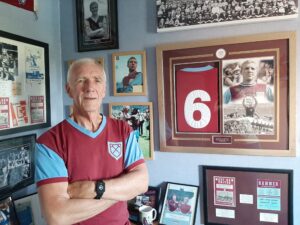 By CandH's top blogger Allen Cummings
We're midway between the last game and the next – so perhaps today should be the dividing line between looking back and looking forward.
Let's move on from analysing our last game to anticipating our next. David Moyes never set out to lose at Old Trafford – even his harshest critics couldn't accuse him of that.
The main criticism has been that he should have adopted a more proactive system and plan to win the game.
Of course we now know what he went with didn't work out the way he would have hoped. That's fact!
What we can only guess at is had he been more adventurous would the outcome have been any different?
Missing Jesse Lingard and Pablo Fornals was clearly a double whammy to his strategy. He chose to go with Mark Noble and Ben Johnson, leaving Said Benrahma and Manuel Lanzini on the bench – switching to plan 'B' with 30 minutes remaining.
Too cautious to start with? It's an accusation that has been levelled at Moyes in the past and no doubt will be again in the future. Critics have said the same this season about Jose Mourinho, likewise Sunday's victorious manager Ole Gunnar Solskjaer.
The truth is as supporters we have nothing to lose – we can be as bold and as adventurous as we like because the buck doesn't stop with us.
When your head's on the line, as it is with professional football these days, life's not quite that simple.
Perhaps the most telling factor in all this, and something we can all agree on, is that right now we have a team lots of us felt could go to Old Trafford, a graveyard for so many West Ham teams of the past, and actually expect to get something from the game.
The universal disappointment that in the event we came away empty handed serves to underline just how West Ham's fortunes have changed dramatically this season under David Moyes. We're in a place right now the vast majority of us never dreamed we would be.
Let's draw a line under the inquests and all hold onto that positive thought as we look forward to the visit of Arsenal this Sunday.
The Gunners will be buoyed by their north London victory over arch rivals Spurs  but in truth they are very hit and miss this season.
Hopefully with a full-strength squad to choose from again, Sunday could provide us with the ideal opportunity to climb back onto that winning bicycle.