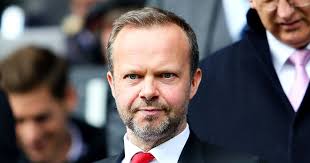 Manchester United's vice chairman  Ed Woodward is this morning being reported as telling rebel clubs to accept relegation from the Premier League as part of Project Restart.
He has made it clear – according to The Telegraph that the disappearance of three clubs cannot be avoided.
He allegendly indicated over the phone last week that clubs should realise that three clubs being relegated to the Championship is part of the Project Restart process.
And he reportedly added it would not just be the relegated clubs that would feel the effects if the season resumed but was halted again and that three clubs must go down.
At the start of May Premier League clubs threatened to vote to relegate the bottom three if they blocked Project Restart proposals. The idea of scrapping relegation if the season is completed on neutral grounds was raised at a meeting last month, but quickly dismissed.
ClaretandHugh says: It was inevitable that  Woodward – or someone like him from one of the top clubs – would be responsible for such words as we read here. He and his club stand to lose nothing and the reality is it's always easy to sound reasonable when you are untroubled by the issue at hand. He's right to claim that there is an inevitability about the situation but that will come as no comfort to the Premier League and those clubs at the bottom continue to hold a very strong hand in legal terms. It's crystal clear that should the season end for whatever reason without an on the field solution any plan to relegate and promote is fraught with difficult legal circumstances. Rules imposed on the game by the PL or the FA are all well and good but its a big leap to decide that they would be acceptable in law. Probably best for Mr Woodward and those like him to stay silent.