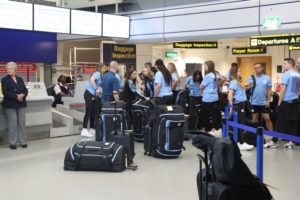 Manchester City have finally taken off for China today to face West Ham on Wednesday after a weekend of delays.
Pep Guardiola's squad were due to depart for the first leg of their two week tour of Asia on Saturday but were made aware of an issue that led to the cancellation of their private flight to Shanghai.
Players were told not to turn up to the airport once the issue came to light and City blamed an "unforeseen administrative issue" on the delay. The flight was pushed back just over 24 hours, to 8pm on Sunday, but the issue remained unresolved and the Aeronexus flight was again cancelled.
But Thomas Cook Sport, who arrange City's travel, have confirmed the issue has now been cleared up and the squad were free to fly.   "Due to an administrative error with third parties Manchester City's flight with Aeronexus was delayed by two days," a spokesman told the Press Association.
With China seven hours ahead and a fourteen-hour flight City will only arrive at their hotel on Tuesday just 24 hours before their opening Asia Trophy match with the Hammers.