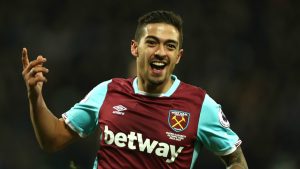 It didn't take long did it – Manu Lanzini scored for Argentina against Italy…is pictured with Messi and is wanted by Barcelona! Big sigh.
International weeks need to be treated with all sorts of caution …players' lips are loosened when away from their clubs and rumours circulate quicker than time!
I was in fact was more interested in the interview given by Manu to the official website over the last few days when discussing how happy he is and always has been at West Ham.
On the face of it this was great reading but unfortunately he allowed himself to leave the tiniest of question marks over his future.
He said among other things:  "I've always said I am very happy at the club and it's a club where I feel very comfortable and I really enjoy working with this group of players.
"I've been here for three years now and I get on well with a lot of people. We have a lot of big personalities here and big players here and I truly get on well with everyone at the club.
I like this young man very much. He's an excellent professional with much to offer and not a word came from the lips of him or his agent during all the talk of Liverpool.
That he should now be linked with Barcelona when being discussed as Phillipe Couthiho's replacement at anfield when he moved to the Catalan giants is bizarre to put it mildly.
However, it was one of those other things I mentioned which caused my eyebrows to lift with some alarm – the classic line from player's who refuse to give total commitment.
He added: ""I always give 100 per cent to the Club. I don't know what will happen in the future, but today I am very, very happy and I love playing here."
With our situation between the Premier League/Championship about 50-50 we can count on nothing and those nine words need to be borne very much in mind.
Victory over Southampton will do a load to ease fears that we could lose our best players but nothing's certain – certainly not total commitment in this game because the game simply doesn't allow for it!