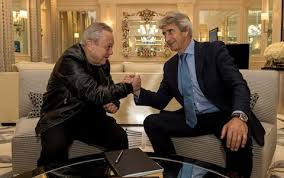 Manuel Pellegrini – the affable 64-year-old Chilean usually is a man who keeps himself to himself if you overlook his recently media outbursts!
"Tactician" would be the first word that springs to mind when considering the man's character over a career which has seen him manager in Argentina, Chile, and finally – in 2004 – with Villarreal.
He adopted an innovative 4-2-2-2 formation at El Madrigal, taking the small Valencian club to third place in La Liga, followed by a Champions League semi-final and a runner-up finish in the league the following year.
His fluid system was designed to get the best out his creative playmakers such as Argentine enigma Juan Roman Riquelme. Pellegrini also encouraged his fullbacks to play more like wing backs music  to the ears of the Hammers' faithful with a recent surge in season ticket renewals since his  appointment.
At Malaga, whom he helped turn into Champions League contenders, he was keen to use his midfield as the focal point of the team promoting a young man named Isco – who has never looked back – from the Malaga B team into the first X1 team and earning himself a move to Real Madrid in the process.
The beauty of Pellegrini's 4-2-2-2 system is that against possession-based opponents, the wide men can tuck in and become more like an orthodox 4-2-3-1 or even a 4-5-1 if necessary.
Pellegrini was viewed as something of a boring appointment at City after the departure of the fiery and charismatic Roberto Mancini but he knows what he wants and achieved it without having to make enemies along the way.
A key player in Pellegrini's backroom staff is Mario Husillos: the Chilean's trusted lieutenant who is now Head of Recruitment 
Pellegrini is known to be an excellent man-manager, with an incredible perception of his players and game situations. He's not one that screams and shouts but instead, gets his message across with intelligence.
Do you think you've got what it takes to be the next Pellegrini? Check out the fun online test How Perceptive are You by Unibet and discover whether you can tell how someone is feeling just by looking at them, too.
Whether the Hammers' board have the financial where withal to help Pellegrini push the Irons into the top half and even Europa League contention remains to be seen.
The switch to the London Stadium was done so with European success firmly in mind. This article written by GQ describes United as a club in flux, which is a fair reflection. Pellegrini's £8 million-a-year contract — making him the highest-paid West Ham boss ever — suggests Mr. Gold and Mr. Sullivan are serious about being more than also-rans.