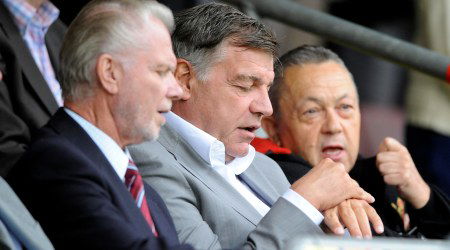 Sometimes a bit of mental stocktaking is a good idea and admitting you were wrong is always good for the soul.
For it's in being wrong that we learn, grow up and become more tolerant and understanding.
So far this season Sam  Allardyce – with a lot of help from the two Davids – has indeed managed to prove a lot of us, including myself, wrong.
Now when I say " a lot of help " I am not necessarily talking about signings in the transfer market. More, that they supported him for what may or may not be his last season at the end of one which  I consider one of the worst in our history.
DS and DG are known not to sack easily but they had more than enough reason to give Sam Allardyce the bullet during or at the end of last season.
To a lot of people's disappointment – again including mine –  they kept the faith with him and are being rewarded for their loyalty as a result.
A lot of  people have been proved wrong but the Davids have shown  that backing your man isn't such a bad idea in a game where it can be tremendously costly both financially and on the field to get rid.
If anyone doubts this they would be well advised to cast their eyes in the direction of White Hart Lane – that's not going so well is it?
So let's accept that – for now anyway –  we were indeed wrong and that the two Davids were right. Sam has shown there's a bit more to him than the Route One merchant many of us believed him to be. 
Loyalty is a rare commodity in this game but the Davids have shown it in spades yet despite all of the above it's still too early to make a judgement on Sam's future.
League position won't be the be all and end all – as has been written on another page. A decent FA Cup run is required and a continuation of the type of football which has brought the fans onside is a must.
For now everything is sweet  but nobody at board level is getting carried away – neither should we!
In the meantime it's the loyalty from the two Davids which has been the key to the enjoyment we have all experienced.
Ok, Sam has made the system work but many owners would never have given him the chance.