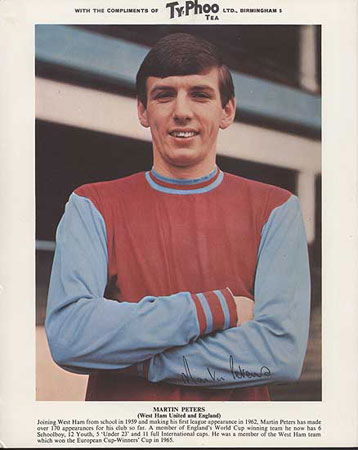 Martin Peters MBE will become the third recipient of the Club's Lifetime Achievement Award at the annual Player Awards this evening at Park Lane, London.
Martin Peters was one of the trio of Hammers that won the World Cup for England  in 1966.
Between 1962 and 1970, he played 364 games for the club and scored 100 goals. Not a bad  for a midfielder! For much of his career at West Ham he enjoyed a free role behind the strikers, so he was very much the attacking midfielder.
Like so many of our players from that era he was born close to the Boleyn, just down the road in Plaistow.
Martin was a product of the West Ham academy and made his debut on Good Friday 1962 against Cardiff City. He did not figure in the 1964 FA Cup winning side but in 1965 he truly cemented a place in the first team and he went on to play a leading role in the ECWC final against 1860 Munich that season.
The following year he was a regular in the England World Cup side and of course he scored the second goal in the final against West Germany. The near post cross that he and Hurst practiced so much at West Ham had paid off in the quarter final when a cross from Peters found Hurst at the near post who headed home the winner.
Martin played 67 times for his country and scored 20 goals – another healthy return. Despite being a regular name on the West Ham score sheet, Martin only scored the one hat trick in his Hammers career and that was against West Brom in 1968.
In 1970, West Ham did a deal with Spurs that amounted to 200,000 pounds – 150,000 cash and a swap deal that brought Jimmy Greaves the other way.