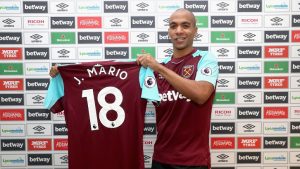 Former Hammer Joao Mario played in all of Portgual's games at the World Cup putting him on how on the world's largest footballing stage. The 25-year-old has made 40 appearances for his country and last season made 14 Serie A appearances prior to his move to West Ham in which he made 13 Premier League appearances.
He has made it clear he has no wish to re-join Inter Milan and wants to continue his journey in the Premier League.
In recent days he has been heavily linked to a move back to Premier League and according to La Gazzetta dello Sport, is getting closer and closer to leave Inter Milan for good and join Wolverhampton Wanderers. Spurs have also been linked with interest too and it is reported they scouted him.
The Italian media says the former West Ham and Sporting Lisbon player might be transferred on an about 18.5 million euros (£16.4m) fee which is less than half the sum Italian club paid for him in summer 2016.