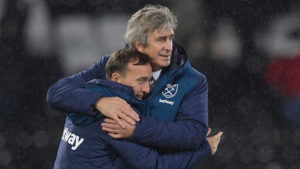 West Ham captain Mark Noble appears to be subtly criticising Manuel Pellegrini tactics.
Writing in his London Standard column the Skipper wrote:
"In three of our past five games, we've gone ahead but the bottom line is that, if you are unable to keep a clean sheet, you're in trouble. Against Newcastle last Saturday we had the vast majority of possession yet found ourselves 2-0 down at half-time — and it could have been even worse. There are some managers who would maybe set the team up to sit back, invite the pressure and then counter-attack. Managers live and die by their decisions and Manuel Pellegrini does what he believes is best for the team. 
That has worked well up until these past few games. It wasn't too long ago that we were on the cusp of going third in the table but I did warn in my column that there would be tough times ahead."
Claret and Hugh say:
Well done Nobes for being brave enough to say what he thinks in his column! Many captains would have avoided the subject for fears of reprisal from the manager or the club.
On Thursday at his pre-match press conference, the manager himself invited criticism by saying no-one was above scrutiny telling reporters "If you don't know how to self-criticise when things are not going well it's because you don't know what is wrong."
When the club repeated portions of his column for the official website this section was left out. You can read Noble's full column at https://www.standard.co.uk/sport/football/mark-noble-west-ham-flair-players-must-still-try-their-magic-during-difficult-spell-a4282311.html