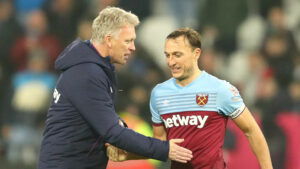 West Ham captain Mark Noble has broken silence on the Coronavirus outbreak and its effect on Premier League football.
Nobes said: "As much as we all want to play, it is the right decision. There are times when sport, as important as it is to so many people, is of secondary importance and this is just such a time. I am a professional footballer and I take my work very seriously, but I am the same as everyone else in that the health of my family is paramount.
"Please follow the Government advice, put you and your loved ones' health before anything else and do not take any unnecessary risks, and we can all return to football at the right time for everyone."
With the Rush Green training ground closed temporarily for deep cleaning West Ham players have been asked to carry out personal training programs to keep fit while David Moyes is in self-isolation as a precaution. West Ham doctors have given players packs including hand sanitiser gel to protect themselves at all times and have been told to avoid large gathering of people.
The Premier League have postponed all matches until 3rd April at the earliest but no-one in the football really believes that football will re-commence in April.