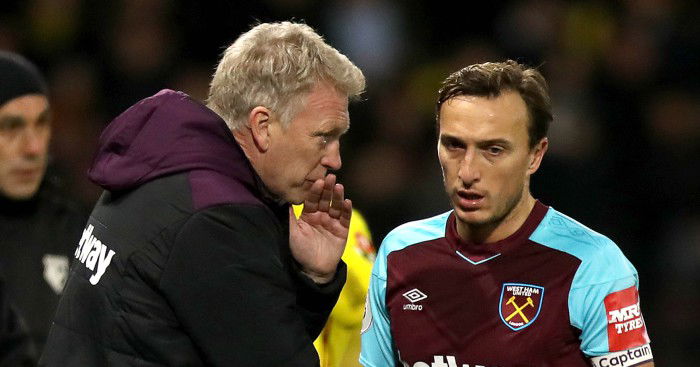 One big stat dominated conversations last night after Mark Noble was named in the David Moyes starting line up at Old Trafford.
Many of course don't accept such stats but it remains a fact that the team hasn't won a game in which he has started this season.
The reason why may have been amply demonstrated at Old Trafford last night when it was crystal that Tomas Soucek's usual space was at times dominated by the 33 year old.
Most would agree that Tomas wasn't the same as he has been previously and I think Mark's presence was the reason.
Let's leave the emotion out of this for a moment – we all know how great a Hammer loyalist Mark has been and love him for it but we are not into that for the purposes of this piece.
The manager chose to go with Mark for his own reasons which seem totally clear – he was looking for a point.
His actions admitted that when taking him and Ben Johnson off once we went behind – reactive thinking when lateral was required ahead of this game.
This was not a great Manchester United team, quick and offensive yes, but the fact that it took a set piece own goal to settle things speaks volumes.
Benrahma or Lanzini – who started to look very bright again last night – were the obvious choices for most of us.
The line-up never looked a "win" formation and once again the manager came away from the place winless again after 15 attempts.
Mark's place appeared to be established much earlier in the season – a sub when a game needs closing down, not when it needs winning.
I'm very very loathe to knock the boss after the wonders he has performed this season but, like most, Nobes from the start was a very wrong choice I reckon.
In Rice and Soucek we have one of the finest – if not THE finest – midfield duo in the PL. Diluting it as was the case last night Moysie was a very poor idea.
I certainly don't expect to see him in the starting line up for the next three games and would have a 'pony'  that Moyes doesn't do so.