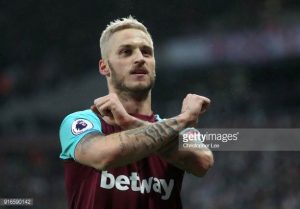 Marko Arnautovic seems almost certain for a hattrick of players awards when the annual event is held in May in London.
Arnie is an absolute shoe-in for the Hammer of the year and signing of the year but has a very good chance of picking up the goal of the season too.  All three awards are decided by supporters and voting opened yesterday at http://www.whufc.com/news/articles/2018/april/15-april/vote-your-hammer-year-now 
Arnautovic is currently leading the top goalscorer award with 9 just ahead of Hernández on 8 and he probably has a good chance with the best Individual Performance award and the players' Player of the year award.
A Claret and Hugh poll in March which attracted 1,338 participants showed Marko taking over 58% of the vote for Hammer of the year with 784 supporters voting him to be their 2017/2018 Hammer of the year. Runner-up for Hammer of the year looks likely to be Pablo Zabaleta who pulled in 10% of the vote with 139
Other awards will include Save of the season, The Dylan Tombides Award for the outstanding Academy player,  The Young Hammer of the Year,   Best team performance of the season with the Lifetime Achievement award handed out to Ken Brown.