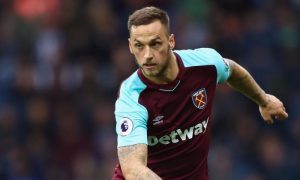 Knee jerk reaction is all too easy when your best player is linked to a £35 million bid!
So it may be a good idea after a night's sleep to take a step back and look at the realities of such a story when the bid comes from an UNNAMED Chinese club for crying out loud.
I do  believe there has been an offer because West Ham refuse to deny it.
But  it's more than a little interesting that despite all the talk from Marko's brother/agent Danjiel about the striker being able to play for any top club, the first so called real offer comes from a footballing backwater.
Let's put this bluntly – it looks and sounds like a manufactured situation between agent and an unnamed club – which is of course interesting in itself.
Why would a club showing such ambition not want to be named? There is no reason which bears examination.
There's simply too many unanswered questions on this one!
We'll wait and see how this one plays out but personally I don't see too much mileage in it but can see the Hammers coming under pressure again to improve his current contract.
I hope they don't because that's the quickest way towards dressing room discontent.