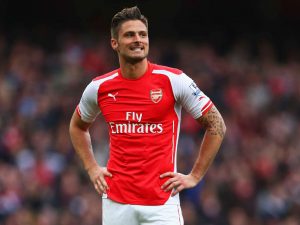 West Ham look set to miss out on another high profile summer window target in the shape of Olivier Giroud,
The Arsenal striker still hasn't finally decided on whether he will leave the Emirates but has admitted that his departure may well be an option.
The Hammers – along with Everton and Marseilles – have been tracking the player since the transfer window opened and the arrival of record signing Alexandre Lacazette, has put Giroud game time next season very much in question.
We understand that the striker has decided that should he quit the Gunners he wants to return to France with his family and we learn that Marseilles are putting together an offer of around £160k a week on personal terms
The Hammers frustrating summer hunt for players looks set to continue therefore although these remain relatively early days and the club insist they have not written off any prospective target at this stage.