Toni Martinez has one aim this season – to make it into the first team squad.
Having enjoyed a magnificent season which saw him score the two goals which landed promotion at Newcastle, Toni can't wait for the season to start.
He said: "I am really excited to get going again and get back on the pitch ahead of the new season.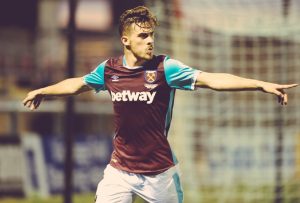 Last season was a fantastic season for me. I'm happy with my adaptation, with how I've coped playing a different style of football in a different country and I hope this season will be even better."
"The loan at Oxford last season definitely helped develop me. To play professional football has been really useful and important. I feel now even more ready to help West Ham United to achieve our goals."
"This pre-season, I hope the manager counts me in with pre-season, and if he does, I'll be really looking forward to joining up and going away with them," he continued.
"Not only that, but I hope to gain a place in the first team squad and help with my goals that I want to achieve.
"The aim for the season really for me has to be finally making my first team debut. Dec [Rice] was given his last season and that was really fantastic to see. The fact that the manager trusts Declan and potentially other young players is very motivating.
"I would love for the manager to consider me for a place in the team when he believes I'm ready."