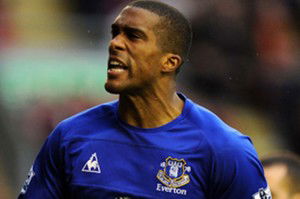 West Ham were one of two clubs who made late bids to take Sylvain Distin from Everton.
Speaking to the Liverpool Echo yesterday Everton manager Roberto Martinez has confirmed that "conversations" took place but says that was as far as any potential deals being concluded.
Distin, 37, is out of contract at the end of the season and Everton who were prepared to let him go but it was a disagreement over the length of a new contract with West Ham that saw the deal for Distin fall through in the early stages.
Martinez told the Echo
"There were a couple of clubs, It would not be right for me to put the names out but there were a couple of conversations and as you can imagine, Sylvain has been a terrific servant for Everton and he is out of contract at the end of this season. So it is only normal and fair to have that conversation. At the end, Sylvain is an Everton player and that is the only thing that matters going forward."
Distin  has just returned to the Everton squad after a spell out injured.