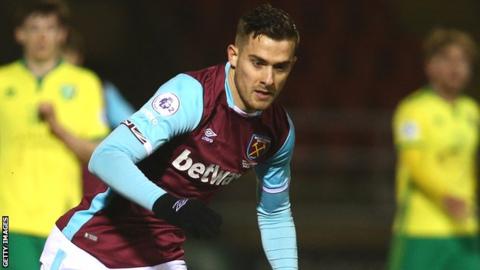 The "pick him for the first team" lobby will rightly be out in force on behalf of Development Squad striker Toni Martinez after another two goals against Bristol Rovers last night.
His goal scoring exploits at  of late are pretty extraordinary and over the last two games he has scored two near perfect and  different types of goal.
Against Manchester City on Saturday we saw a low drive from distance and last night a perfectly executed dink beyond the Bristol Rovers keeper for the third in a 3-1 win.
His boss Terry Westley explains the difficulties when declaring: "He's in the toughest position of all to make that breakthrough. There is so much more competition in the striking role but there is no question he is a natural goalscorer. A fine player."
It's easy to understand the calls for his inclusion at PL level at a time when the team is performing to a level which is seeing them dragged towards the bottom.
But that may be one reason NOT to play him at this stage as plunging a youngster into that situation can often do more harm than good although in fairness that hasn't been the case with Declan Rice!
Thus far this season Martinez he has nine goals and a decision will soon need to need made on whether he goes away for another loan in January or remains to learn his game within the confines of West Ham's academy and possibly the first team.
Despite the outstanding potential of this 20 year old, it is surely not on to include him in a team against Liverpool on Saturday although a place on the bench should now be considered.
I am pretty well convinced Carroll will be back against his former club anyway – a habit shown by the manager with an out of sorts Fonte against Southamton and Ayew against Swansea.
However, in a team not scoring many goals it seems reasonable to me that Martinez should be on the bench and given a chance to change a game when – as so often this season – it hasn't been happening for us.
With Sakho out of the first team frame and the likes of Jonathon Calleri given their chances in the past Slaven Bilic has nothing whatsoever to lose in bringing him in as a regular squad member.
I hope he does
COYI