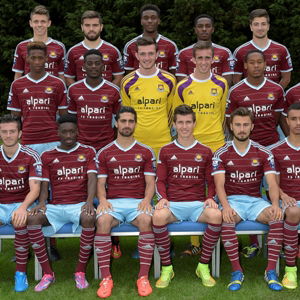 West Ham are set to stage a massive cull of the Development Squad over the next few weeks.
The club  confirmed today that Jamie Harney and Danny Whitehead have both have both left West Ham United.
And this follows announcements on their social media channels that Ben Marlow and Kieron Bywater will not be signing new contracts.
Colchester United later announced they had signed former Hammers U21 defender  Harney on a free transfer following his release.
It won't stop there with no news of contract offers to 14 others -Danny Potts, Seb Lletget, Paul Mccallum, Lewis Page, Taylor Tombides, Josh Cullen, Blair Tugott, Matthias Fanimo, Kieran Sadlier, Raphael Spiegel, Moses Makasi, Nathan Mavila, Amos Nasha and Sam Westley.
Elliot Lee has two years remaining on his contract after penning a new two and a half year deal in March last year, Reece Oxford, Reece Burke and Joe Powell have also recently signed new long term three year contracts. Jaanai Gordon's contract runs until the summer of 2018.
If all of them leave the club in addition to the four already named it will be a complete clear out of the Academy built by Tony Carr and Nick Haycock.
Terry Westley took over the Academy last Summer with Steve Potts announced as the Under 21 manager last week. It is understood Terry has been tasked by the board with getting return on the £4m plus investment made into the Academy every year.
The Hammers U21's remain bottom of the Premier League U21 league with eight points after losing eight of their 12 games this season.