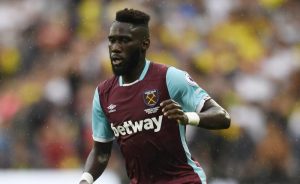 by Allen Cummings
It's probably an understatement but right now we could all do with a new hero. A saviour. Someone who can lift our spirits and lighten the gloom that has descended like an old style London fog on the London Stadium, engulfing all and sundry. We need someone to lift us. Excite us. To get us up and out of our seats! Not to berate the board but to get us behind the team again. The way we used to in the 'good old days'. But who might that be? Where do we look for the inspiration that's desperately needed? Which one of the current first team players fits the bill? The most obvious choice has got to be Marco Arnautovic. He's already become a firm favourite with his goals and his electrifying runs. But Arnie needs help. He can't do it all on his own. Could it be that an 'unlikely' hero is set to emerge from the wilderness?
Arthur Masuaku was a villain back in January. Pilloried, and quite rightly so, for his actions in the infamous spitting incident against Wigan. Sent off in shame that day, and served with a six-game ban. But the french international is once again available to play. His expected return for our next game against Southampton couldn't come at a more important and hopefully opportune time. For a vital game against a side like ourselves, battling for survival points. It's a game we must win. A game we must seize by the scruff of the neck and go for the jugular. A game that could be tailor made for 'King Arthur's' return.
Arthur was something of an overnight sensation at the end of last year. Converted by David Moyes to a left-sided wing back, playing ahead of Aaron Cresswell, he was like a breath of fresh air and the crowd loved him. His surging runs down the line gave the team genuine pace and penetration and the opposition a real headache. We've always loved an old fashioned wide player at West Ham. A white line raider. Arthur was already becoming a real fans favourite. He'd even been given  his own song. We were all happily singing about how…"Arthur Masukau was better than Lukaku". It was great to hear – and light years away from where we are now. West Ham were unbeaten in seven games before the Wigan disaster, with three wins and four draws to our name. Then came the fall from grace and in the six games since then we've lost four, drawn one and won only against Watford.
If ever we needed that old Masuaku magic it's now. We need him to get the crowd excited again, not incited. To lift our spirits on the pitch and in the stands. To drag us out of this unholy mess and take us on to safety.