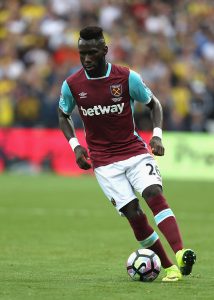 Arthur Masuaku enjoyed a brilliant game against Everton and clearly nobody enjoyed it more than the man himself.
Speaking to the official site he said: "I think that was my best game for West Ham. In my opinion I'm better when I'm on the wing because I can go forward and I can come back and defend. This is my best position, I think.
"It's nice to have played four games back-to-back. I can play without pain after having trouble with my injury [earlier in the season].
"Now everything s behind me, hopefully I can keep going and play like I did on Saturday.
"I think it was a good point for us against a top team. We played very well as a team and that's the key to success.
"We defended well, we were strong, we were solid and we didn't give them the opportunity to score. We have to keep going like that in the next game against Stoke City."