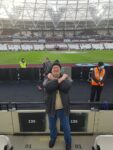 Match verdict by Hughie Southon
Up to tenth on a night when the only thing that mattered really was the result.
It was 90 minutes which again defied the suggestions that we always get the wrong end of VAR decisions with a first goal which not many would surely suggest wasn't dodgy and a penalty award that went our way.
Truth is we weren't at our best again and whilst the league is really tight with many clubs finding the same level we need to step up again on last night.
Let's be honest. Whilst we were clearly the better side for long periods Bournemouth – with two key players off -, were no pushovers and dominated towards the end.
Gianluca Scammaca worried me when, despite seeing much of the ball failed to hold on to it and seemed to be too easily dispossessed on numerous occasions.
Declan is back to his best and Flynn Downes is looking the part. Sadly, there always seems to be one player who is singled out for criticism by some, and Ben Johnson seems to be that man at the moment,
I can't agree on the basis of last night when he defended well, making some important interventions and attacked well.
Benny was man of the match but we now move on to Old Trafford on Sunday and will need to up our game to second half at Liverpool levels if we are to get a result.
It's also a game which may show whether we are capable of genuine Euro aspirations. The hard part is still to come,